Discover Gabriola with the Lynch Group Blog
Our Discover Gabriola blog features what we think is the best of Gabriola Island, sights, experiences, what's happening, and a bit about our daily lives in the community!
If you want to keep track of new blog posts, you can subscribe to our Blog RSS feed 

A time for making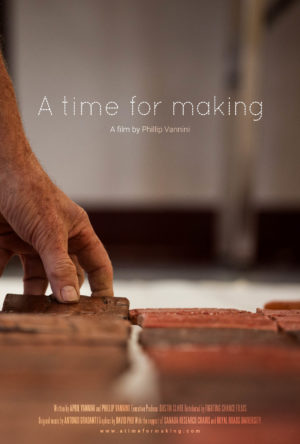 A potter gently forms a mound of clay into shape on a wheel. Soft curls of wood gather around a woodworker's hand planer. A glassmith spins molten glass at the end of a steel blow pipe.
These are some of the intimate portraits of nine artisans featured in A Time for Making, a new film entirely made on Gabriola Island by Phillip and April Vannini.  
Shot throughout the course of a year on Gabriola Island, as the seasons and their respective moods change and give way to each other, the film takes us into the homes, workshops, and the studios where artisans dedicate themselves to their crafts.
"Making by hand is a lifestyle," Phillip Vannini says. "On our coast, artisanship is part of a shared way of life. The artisans in the film teach us that making is not something you do for the money, but rather for the sheer pleasure of living a life fueled by creativity, dedication and passion." 
The Vanninis say they were inspired to make the film to showcase what "made in BC" looks like, and what impact living on a small island can have on creative expression and artisanship. The distinct feel of the land-, sea- and sound-scapes of the island and the BC Coast, and the rhythms and textures of everyday life on the island are so powerful that "something made here," they say, "carries the unmistakable imprint of a unique place and community."  
In the opening sequence of the film, Paul McEwen, a baker, explains how much integrity it takes to make the simplest things. "The same could be said to consuming the simplest things," Phillip says. "Hopefully the film can teach everyone about the many ways in which that integrity is manifested through artisanship and handmade craft."
The 58-minute film, distributed by Australia-based Fighting Chance Films, is available through iTunes, Amazon, and Vimeo. Nanaimo and Victoria residents can also watch it on the big screen in their respective cities on January 28. For more information: https://www.facebook.com/atimeformaking/
Posted by Jennifer on December 18, 2018
---