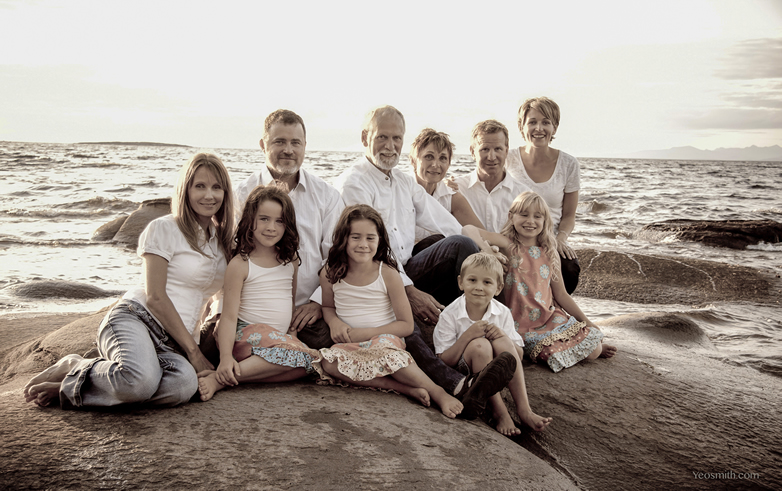 Our family has deep roots in the Gulf Islands with three generations currently living on Gabriola.
After discovering Gabriola through a family friend, Jack and Randi decided that Gabriola Island was where they wanted to raise their daughters (Jennifer and Tina) and moved to Gabriola from Nelson B.C in 1979. Upon arriving on Gabriola, Jack and Randi soon found the perfect house by the ocean to call home and it was here on the shores of Gabriola that Jennifer and Tina spent countless hours of their youth.
Jack was a Montreal native who, with the same spirit of adventure as Randi, set off on a cross Canada trip in 1970 and settled in British Columbia. A well respected boiler maker by trade and a literal "Jack-of- all-trades" he was instrumental in constructing and maintaining several of the largest lumber and pulp mills in British Columbia. Jack was an honest, hard-working, and humble man who prided himself on a job well done. Above all, he loved Gabriola and embraced every moment; seeing his daughters flourish in the community, having coffee at the Coop, laughing with his grandchildren, good food, music, fishing and the evening ritual of sitting with Randi on the deck with a glass of wine watching the sunset. Jack's legacy – his love of life, family, and community along with the values of honest and reliable hard work – continue to be the foundation of our family.
In addition to the Lynch's, both Jennifer and Tina's spouses (Tom Reid and Guy Parcher) have roots that go beyond Gabriola to the Southern Gulf Islands and Vancouver Island.
Tom spent most of his childhood on Mayne Island and attended high school on Saltspring Island before eventually settling on Gabriola; his parents following suit a short while later. The joys of exploring the ocean, the beaches, and the forests of the Gulf Islands led Tom to a career in the field of conservation and fish and wildlife management; working to protect ecologically sensitive areas on Vancouver Island and the Gulf Islands, the Central Coast and Haida Gwaii. In the community, Tom is an active member of the Gabriola Volunteer Fire Department and Volunteer Fire Fighters Association.
There are now four grandchildren exploring the shores of Drumbeg Park at low tide; kayaking out of Silva Bay to the Flat Top Islands; swimming off of their Mor-Mor's beach; fishing at Thrasher Rock or the "Grande"; swimming for the Nanaimo Diamonds and Riptide swim teams; racing BMX and mountain bikes on the trails of the 707; selling lemonade at a roadside stand; playing hockey or running track and field; and finally, growing up and making life-long friends in a wonderful Gulf Island community setting.
As a family we value what the Gulf Island lifestyle has to offer and, much of who we are today is a direct reflection of this. While we know that our children will grow up to explore the world and follow their own path, we take great comfort in knowing that Gabriola will always be with them and will forever be a place to call home.