Discover Gabriola with the Lynch Group Blog
Our Discover Gabriola blog features what we think is the best of Gabriola Island, sights, experiences, what's happening, and a bit about our daily lives in the community!
If you want to keep track of new blog posts, you can subscribe to our Blog RSS feed 

Gabriola's Hottest Tickets… "Tempest in a Teacup"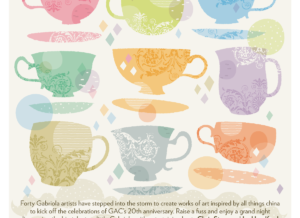 The Gabriola Arts Council turns 20 this year, and the traditional 20th anniversary gift is CHINA! Our very clever friends at the Art's council made that the Theme of this years 3rd annual Fundraising Gala Tempest in a Teacup: The China Affair — our 3rd annual fundraising gala on Saturday, January 28th, 2017 at the Community Hall.
Tickets are on sale now, but will likely quickly sell out – this is an AMAZING evening, and 40% of the funds raised in the silent Auction goes back to the Arts Council, who offer so many excellent programs and events throughout the year. For those wanting a sneak peak, the artwork will be featured online and at the Folklife Village in the window display!
We are super excited to be participating, among this very talented group and look forward to seeing you there!
Participating Artists
Annette Lorek, Antoinette Herivel, Brendalee Astells, carol weaver, Caroline James, Chris Straw, Christy Wilson, D'dance Glass, Elizabeth Sima Shefrin, Elsa Bluethner, Gil Parcher, Gwen Spinks, Hayden Harvey, Heather Cameron, Heather McCulloch, Jane Ferland, Jennifer Lynch, Jill Adamson, Joan Badke, Joanie Wright, Judith Madsen, Kate Wood, Kathy Dennison, Konrad Mauch, Lou Gagne, Rob Maynard, Lottie Anderson, Lynn van Herwaarden, Laia Levine, Mary Sullivan Holdgrafer, Marylyn Beaubien, Ocean Mussack, Pam Tempelmayr, Randi Lynch, Shawntah Breen-Toy, Tawny Machlachlan, Wendy Stok, Zulis Yalte
Posted by Jennifer on January 10, 2017
---